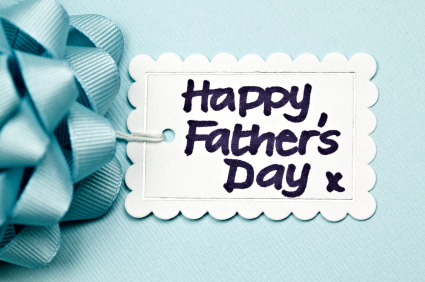 Father's Day is fast approaching – it's this Sunday, June 19th. If you're like me, you're wondering what the heck to buy the 'ol guy this year. Here's where the power of the brand comes into play. When we (as consumers) go to shop, we tend to shop name brands: Apple, Weber, Fruit of the Loom, Taylor-Made,
Patagonia, Best Buy, Old Spice, Norelco… the list goes on and on. What we buy becomes a reflection of who we buy it for – dad's included. So take a minute to think before you drop the plastic on that package of socks for pops – this year is a great time to reward companies that are doing it right.
Companies seek to evoke emotion and loyalty from us shoppers, and they do this through the use of powerful branding: actively creating a total experience in order to forge a positive emotional connection with people.
A perfect (and obvious these days) example of a great brand is Apple. Wherever we as consumers (and potential customers) run into their brand, the messaging, the overall aesthetic, the positioning within the marketplace, are all consistent – from brick and mortar store, to online store, to email marketing campaigns, to packaging, et al.
So what do you say? Here's why branding plays a vital role in business success, and what that purchase for dad is doing for the brand(s) you choose to reward with your hard-earned cash :
Increases Company Value
A powerful brand impacts the bottom line by increasing the value of the organization and its products.
Drives Sales
Authentic brand experiences resonate with customers, generating repeat purchases and powerful word-of-mouth.
Builds Loyalty
Customers forge emotional connections with authentic brands, transforming them into long-term users and loyal brand advocates.
Creates Awareness
Compelling brands cut through info-cluttered overload, using every medium to its fullest potential to clearly identify the company and tell its unique story.
Allows for Premium Pricing
Powerful brands price at a premium above the competition. When your organization provides specific experiences that customers can see, hear, touch, and feel, you are adding value and can price that value.
Saves Costs
Clearly articulated brand strategy allows for fast efficient production of brand materials and activities, eliminating the need to "reinvent the wheel" with every new project or initiative.
Increases Productivity
Clearly articulated brand strategy also allows employees and outside business partners to efficiently utilize a highly structured identity system for creation of all brand collateral and materials.
Creates Protection From Competition
Trade dress (the whole brand's distinctive stimuli) is protected by state and federal laws. The more distinctive your brand presentation is, the easier it is to protect from misuse or duplication by competitors.
So while you're frantically last-minute shopping for that special dad in your life with the questionable taste in golf shirts, take a minute to examine why you're compelled to go into a certain store or visit an online retailer – and realize that they want you to be emotionally engaged with them, be loyal and shop often, return and tell others how great they are. Are they holding up their end of the bargain and delivering the goods? If not, move on. If so, reward them with what they cherish the most – your loyalty.