So 2011 is well under way, and with January receding in the rearview, its time to get busy. The best way to maximize value out of your brand this year? Transform the authentic "promise" of your brand into an actual implementation plan, aka "The Marketing Plan".

A quick refresher to set the stage: a compelling brand acts as the foundation of your Customer Value Chain (the total value realized from a customer through their experience with your company's branding, marketing and sales activities). The key to maximizing the value of your Customer Value Chain is developing an effective Marketing Plan. An effective (and realistic) Marketing Plan serves as the roadmap for turning brand strategy into actual bottom results such as increased sales, market share and brand awareness. It transforms strategy into action, theory into reality.
Your Marketing Plan: Contact, Convince, Close
Think of your Marketing Plan as the instruction manual for building the customer brand experience – it defines the specific initiatives, activities and materials through which you will interact with your customers, prospects and the world at large to communicate the authentic promise of your brand. While it sounds like a tall order, and can seem overwhelming, creating your Marketing Plan is pretty straightforward. The key is segmentation – by dividing how you sell (your Sales Process) and the tools you use to communicate in order to do so (Brand Touchpoints), you create the framework for creating and executing an effective Marketing Plan (see diagram below).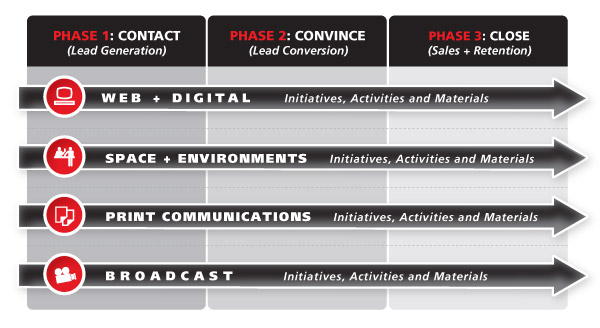 The components of your Sales Process determine how you sell from initial contact through close of sale and beyond:
Contact (Lead Generation) – How should we find potential customers and create interest in my brand?
Convince (Lead Conversion) – How should we convert prospects into customers and "close the deal"?
Close (Customer Care, Retention and Referral) – How should we keep customers happy and turn them into brand evangelists?
The tools utilized to communicate throughout your Sales Process – your Brand Touchpoints – become the specific ways in which people experience your brand:
Approached utilizing this structure, creating your Marketing Plan becomes much easier and much less intimidating – simply determine which Brand Touchpoints you will use to best accomplish your business objectives throughout the three phases of your Sales Process. In the larger corporate "big picture", strategic branding enables creation of this effective Marketing Plan, which drives sales performance and the achievement of your key business objectives.
Don't Forget the Bottom Line – The Budget
While I've waited until the end to discuss it, budget is a critical parameter in determining the effectiveness of your Marketing Plan. Your budget defines the scope of your Marketing Plan. An underfunded plan typically underperforms (you get what you pay for). Too large a budget often leads to wasted resources and lack of focus (the shotgun approach). The old rule of thumb identified 10% of gross revenue as the baseline for the marketing budget. Given today's tough economic times, we've revised that to a more realistic 4-7%. We've found this to be a great realistic guideline for development of an effective Marketing Plan that achieves desired objectives without breaking the bank.