June is Craft Beer month in San Diego, so I thought it was the perfect time to consider my two favorite things: beer + design.
I've only been living in San Diego for five years, but I can't help notice the serious number of new breweries popping up throughout the county. Whether its Mission Brewery in East Village, the latest Pizza Port recently unveiled in Ocean Beach, or Stone Brewing Co. soon to tap into Pt Loma's Liberty Station, I've come to realize San Diego is all about craft brewing. And we're damn good at it! Beer lovers around the world are taking notice and giving us the ol' toast and nod of approval.
I recently attended an AIGA "Idea Series" about beer and design, and got to hang with the Creative Director of Stone, the VP of Beer at Karl Strauss, the Art Director of Ballast Point and one of the owners at Green Flash Brewery. Each explained how they got into the craft brewing industry and the different roles they fill at their respective companies. I found it interesting that Karl Strauss & Stone use in-house marketing teams, Green Flash outsources all its marketing to an agency, and Ballast Point does a combo of outsourced illustration with in-house designing.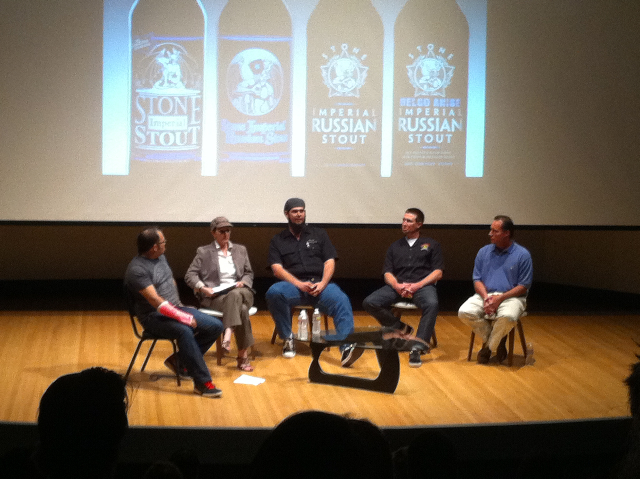 As a whole, all four breweries shout NO! to conventional advertising techniques: Budweiser, you can keep your "corpo" commercials and radio spots; it just doesn't fit with the whole "stick-it-to-the-man" mentality of craft brewing. Instead, each brewery works hard to promote their beers using more indirect, grassroots methods. Karl Strauss hosts an annual "Beach to Brewery" event with beer tastings, local musicians, and free swag. Stone does a "Total Tap Tower Takeover Tour" sending their beers on a 7 day, 7 city tour of 7 bars across the US. Ballast Point was recently featured on Sam The Cooking Guy's "Craft Beer Day" episode and the Green Flash Team travels nationwide to beer fests like "Seattle Beer Week" to meet face to face with new customers.
All four companies agree that social media plays a vital role in promoting their unconventional marketing campaigns while helping educate the consumer about the art of beer making. As a result, San Diego is receiving worldwide recognition as a fierce competitor in the craft brewing industry. Last year at the World Beer Cup, San Diego took home 5 gold medals in various categories – more medals than several European countries combined.
As I lift my pint to San Diego's craft brewers, all I have to say is… watch out Germany! SD is in the brew house, and we're making delicious barrels of unique beer that will knock your yodeling socks off.
Cheers San Diego – drink up, and drink it in!
Related links to check out:
• Karl Strauss Facbook Page
• Ballast Point Facebook Page
• Stone Facebook Page
• Green Flash Facebook Page
• TapHunter