Unless you've been living underneath a soundproof rock (or your artist garret has REALLY thick walls) you've heard of Pacific Standard Time, the mammoth collaboration of more than sixty cultural institutions across Southern California coming together for six months beginning in October 2011 to tell the story of the birth of the Los Angeles art scene and how it became a major new force in the art world.   Here on the Left Coast we take it as a given that Southern California gave birth to many of today's most vital artistic trends, but the rest of the world (hello NYC) has remained largely (proactively?) ignorant and aloof  to the immensely rich story of how this came about. To document this pivotal moment and bring it to life for a wide audience, the partner institutions in Pacific Standard Time offer a comprehensive series of exhibitions and programs that taken together are nothing less than a new vision of the arts today, and how Los Angeles and Southern California has played a decisive role in their development. From a branding perspective (have to tie it back to the biz, right?) its a fantastic example of how an entire region (SoCal) is (re)defining how it is perceived to the world of art at large.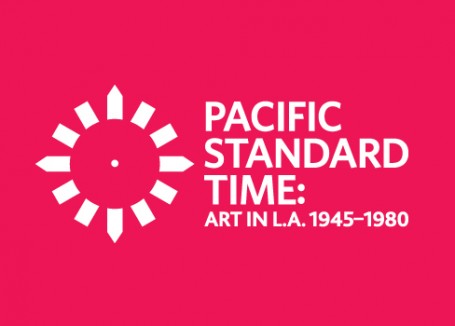 PST encompasses a TON of exhibits –  I've been doing my best over the past several months to check these out. Following are my Top 10 PST "must see's" so far. You can check the full roster of goodies here Some of these exhibits only have a few weeks left before they come down, so do yourself a favor and call in a sick day, jump in your car and GO SEE SOME ART.
1. The GRAMMY Museum
Los Angeles, CA
Trouble In Paradise: Music and Los Angeles, 1945-1975
February 22, 2012 – April 2, 2012
Trouble in Paradise explores the pop music scenes of Los Angeles, and their related culture, politics, and popular art, during the years of 1945-1975. Trouble in Paradise include surf rock, jazz, R&B, Laurel Canyon folk rock, the Sunset Strip rock scene, and the East L.A. Chicano sound. And lets not forget the Hardest Working Man in Show Biz – James Brown! (Don't forget to check out the Listening Booth)
2. Museum of Contemporary Art (MOCA)
Grand Avenue, Los Angeles
Naked Hollywood: Weegee in Los Angeles
November 13, 2011 – February 27, 2012
In 1947, the tabloid photographer known as Weegee relocated from New York City to Los Angeles. In doing so, he abandoned the grisly crime scenes for which he was best known and trained his camera instead on Hollywood stars, strippers, costume shops, and naked mannequins, sometimes distorted through trick lenses and multiple exposures. This is the first museum exhibition ever devoted to the body of work Weegee produced in Southern California and includes his 1953 photo-book Naked Hollywood, roughly 200 never-before-seen photographs as well as the photographer‖s related work as an author, filmmaker, and photo-essayist.
3. Los Angeles County Museum of Art (LACMA)
Los Angeles, CA
California Design, 1930–1965: "Living in a Modern Way"
October 1, 2011 – March 25, 2012
The first major study of California mid-century modern design features more than 350 objects—furniture, ceramics, metalwork, fashion and textiles, architectural drawings and photographs, and industrial and graphic design.
Edward Kienholz: Five Car Stud 1969 – 1972, Revisited
September 4, 2011 – January 15, 2012
Ed Kienholz‖s Five Car Stud, created for Documenta 5 in 1972, has never been seen publicly in the United States. This life-size tableaux depicts a black man caught drinking at night in his pick-up truck with a white woman; his vehicle has been surrounded and trapped by the parked cars of his six white captors. Easily the most disturbing and powerful piece I've seen in a long, long time. Can't believe its been in storage for 40 years…
4. A + D Architecture and Design Museum
Los Angeles, CA
Eames Designs: The Guest- Host Relationship
October 1, 2011 – January 16, 2012
"The role of the designer," said Charles Eames, "is that of a very good, thoughtful host, all of whose energy goes into trying to anticipate the needs of his guests." Features key vintage furniture pieces, Eames films, slide shows and quotes, the exhibition suggests that one reason why the designs have endured is that ideas like the guest-host relationship were, to the Eameses‖, products as essential as their chairs.
5. Fowler Museum at UCLA (with UCLA Chicano Studies Research Center)
Los Angeles, CA
Mapping Another L.A.: The Chicano Art Movement
October 16, 2011 – February 26, 2012
A collective re-imagining of the urban landscape through photography, graphic arts, murals, and large-scale architectural plans, as well as through painting, sculpture, installation, and drawing via the Chicano movement. The work is at once local, identity-based, and global in orientation, exploring the uncharted spaces between Mexican tradition, Chicano vernacular, and American modernism.
6. The Getty Research Institute
The Getty Center, Los Angeles, CA
Greetings from L.A.: Artists and Publics 1945–1980
October 1, 2011–February 5, 2012
A ton of cool personal, promotional and marketing ephemera revealing how key West Coast artists disseminated their works to a broader public.
7. Museum of Contemporary Art (MOCA)
The Geffen Contemporary Los Angeles, CA
Under the Big Black Sun: California Art 1974-1981
October 2, 2011 – February 13, 2012
The most comprehensive survey exhibition to date to examine the exceptional fertility and diversity of art practice in California during the mid- to late 1970s. Features works by approximately 125 artists working in a wide array of mediums and styles. The exhibition demonstrates how collective loss of faith in government and other institutionalized forms of authority yielded a pluralistic spirit of freedom and experimentation that reached its artistic apex in California, already a fertile ground for creativity and non-conformity.
8. Museum of Contemporary Art San Diego (MCASD)
La Jolla and Downtown San Diego
Phenomenal: California Light, Space, Surface
September 25, 2011 – January 22, 2012
Presented in MCASD‖s two locations (dTown + LJ), Phenomenal focuses on perceptual investigations by artists that began in Los Angeles and Southern California in the 1960s, fomenting many of the most vanguard practices engaging young artists today. These intrepid artists pioneered distinctive approaches that focus on visual perception rather than discreet objects. The exhibition includes paintings, drawings, resin and acrylic sculptures as well as site-responsive installations in which the predominant medium is light.
9. Museum of Latin American Art (MOLAA)
Long Beach, CA
MEX/LA: "Mexican" Modernism(s) in Los Angeles 1930-1985 14
September 18, 2011 – January 29, 2012
MEX/LA: "Mexican" Modernism(s) in Los Angeles 1930-1985 focuses on Mexican modernist avant-garde art created in Los Angeles between 1945 and 1985 with a prologue on Mexican muralists and painters of the 1930s. Mexican modern art has often been viewed with particular stereotypes that have perpetuated a commonly simplified perception. This exhibition challenges that perception and offers an open-ended revisionist history of Mexican Modernism.
10. Norton Simon Museum
Pasadena, CA
Proof: The Rise of Printmaking in Southern California
October 1, 2011 – April 2, 2012
Proof explores the significance of printmaking and its new possibilities as first re-envisioned in post-war Southern California. The exhibition includes works by the local founders of this movement such as well as those who made their way to print specifically in Los Angeles.